Rice and curry, that was what our Sinhalese driver had whenever I asked what he ate. It may seem monotonous, but it's not. It doesn't matter what they eat; all meals are referred to as "I had rice and curry."
There is more to Sri Lankan cuisne than just rice and curry.
Sri Lanka, a small island tucked away in the southeastern tip of India, a country formally known as Ceylon is synonymous with tea and exotic spices. Its cuisine is one of the least known in the US. I used to think that Sri Lankan food was like Indian food and I was wrong. Sri Lankan cuisine is deep-rooted in its history. The country's involvement in the spice routes of Asia can be dated back to the early 2000s BC, according to UNESCO, when merchants arrived for the prized cinnamon.
If you're like me, you'll leave Sri Lanka missing its cuisine. I recommend you try the following when visiting Sri Lanka:
1. Rice and curry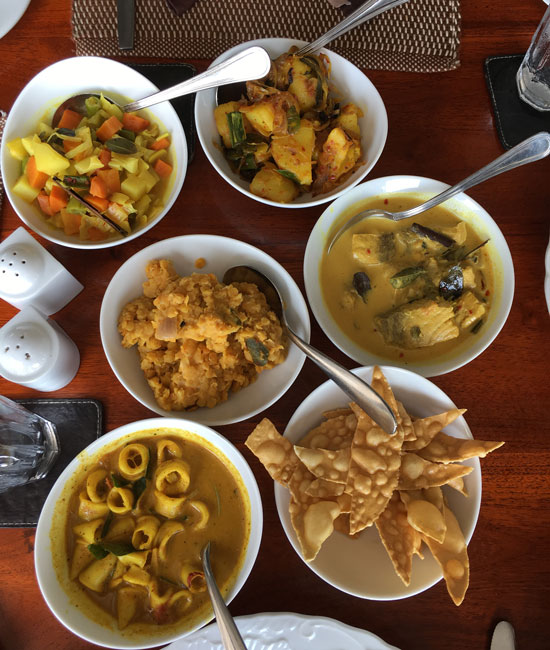 There was not one curry that tasted the same in every place I ate in Sri Lanka. Rice is usually the centrepiece of traditional Sri Lankan meals, accompanied by an array of curries. You'll find fish, meats, beans or vegetable curries and variations of sambols (chili dips) as side dishes. Imagine the variety of rice and curry!
My first introduction to rice and curry was in Galle, a fortified historic city on the southwestern coast of Sri Lanka. Depending on where you go, the curries vary in ingredients and the degree of heat and spiciness. Most are made from a variety of spices like cinnamon, fenugreek, turmeric, dried red chilies, coriander, fennel, cinnamon, cloves, nutmeg, mace, pepper and mustard seeds. The other essential ingredient is coconut.
Below is a photo showing my first rice and curry lunch. It consisted of dhal curry, vegetable curry, fish curry, squid curry and potato curry. The crispy and thin crackers are called papadum, which is similar to an Indian papadum.
2. Egg hoppers and string hoppers
Staying at a hotel that includes a buffet breakfast is a must when visiting Sri Lanka. My top picks for breakfast are egg hoppers and string hoppers.
Hoppers (appa) are a Sri Lankan signature breakfast dish. They are bowl-shaped rice flour pancakes. An egg hopper is a hopper baked with an egg in the middle.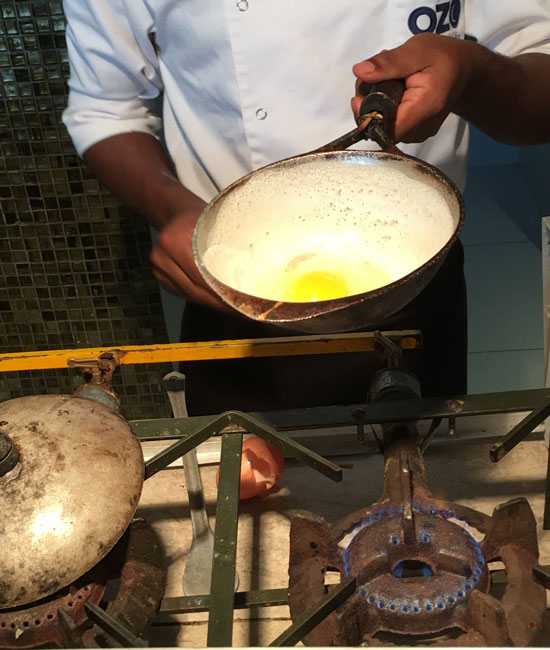 String hoppers (idiyappam) are nest-like pancakes made from red or white rice flour. Both egg hoppers and string hoppers are best accompanied by pol sambol, lunumiris, and seeni sambol.
3. Pol sambol, Lunu miris and seeni sambol
Pol sambol, lunu miris, and seeni sambol are chili dips bursting with spice, heat and sweetness. These dips elevate every type of Sri Lankan food. Most buffet breakfasts in hotels have a variation of these sambols (chili dips).
I witnessed the making of pol sambol while visiting a home near Sigiriya Rock. The hosts used traditional utensils. The miris gala, a rolling pin made of stone is used on a flat stone surface to crush the dried chili and onions. She also used a hiramanaya, a coconut scraper, to grate the fresh coconut meat. Pol sambol is a mixture of freshly grated coconut, crushed dried chili, onions, lime juice, and salt.
Seeni sambol is fried onion and Maldive fish dip, made of finely chopped onions, Maldive fish, chili powder, cardamoms, cinnamon, cloves, tamarind juice, curry leaves and sugar.
Lunu miris or salt chili is the spiciest among these three chili dips. It has the same ingredients as seeni sambol, but it's not cooked. It's a mixture of crushed dried chili, chili powder, finely chopped onions, dried Maldive fish and lime juice.
4. Lawariya (stuffed string hopper)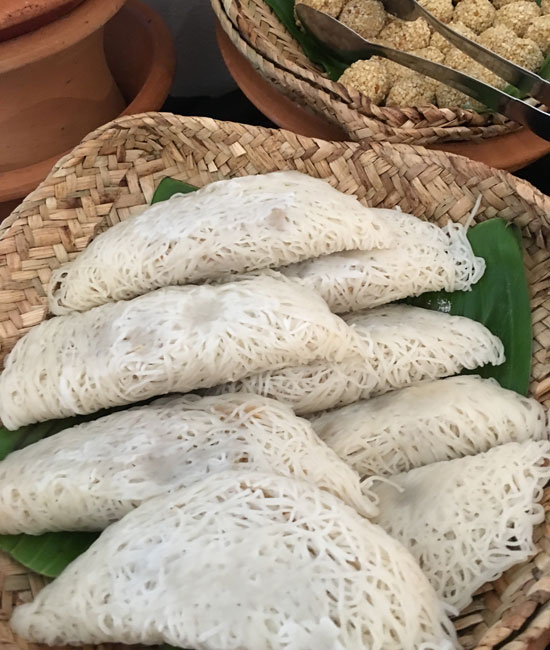 Great for teatime and any time of day, lawariya is a string hopper stuffed with a mixture of freshly grated coconut and brown sugar. Try it with a hot cup of tea or coffee.
5. Mallum salad and red rice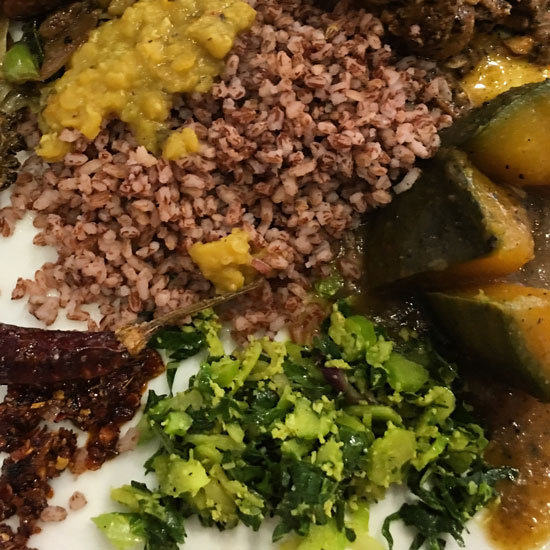 These days, mallum salad is made of grated coconut and any type of leafy green vegetable. Traditionally it is made from gotu kola, a type of leafy vegetable grown widely in Sri Lanka. For the healthiest meal in Sri Lanka eat mallum salad with Sri Lankan ma-wee red rice.
6. Kola kanda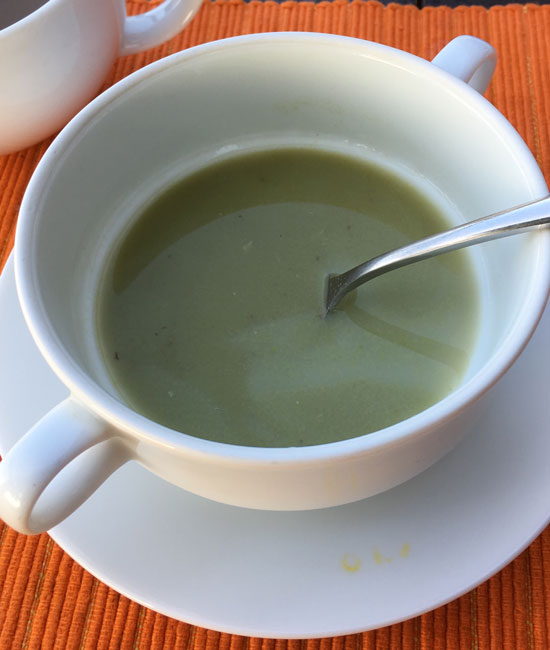 Health conscious travellers should try the "green juice" called kola kanda. This ancient Ayurvedic herbal porridge is best taken with an empty stomach before you have your breakfast. It's made with raw coconut milk and juice extracted from gotu kola and other leafy vegetables.
According to our server, it helps alleviate constipation, high blood pressure, high cholesterol, and urinary tract infections. It was not my favourite, and I just took a sip.
7. Tropical fruits
Sri Lanka has plenty of luscious tropical fruits. Be sure to try their oranges, jackfruits, rambutans, papaya, mangoes, gooseberries and bananas.
8. King coconut drink and meat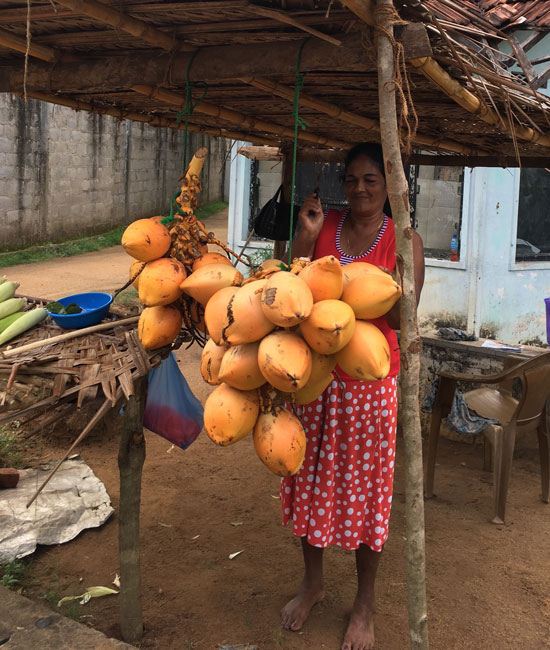 There's no lack of coconut vendors by the roadsides in Sri Lanka. You'll have endless opportunities to ask your tour guide and driver to make a stop and get the king coconut drink. King coconut is indigenous to Sri Lanka. After drinking you can get the vendor to crack open the coconut shell and eat the coconut meat, provided you have a clean spoon to scoop the meat out.
9. Kokis (rosette cookies)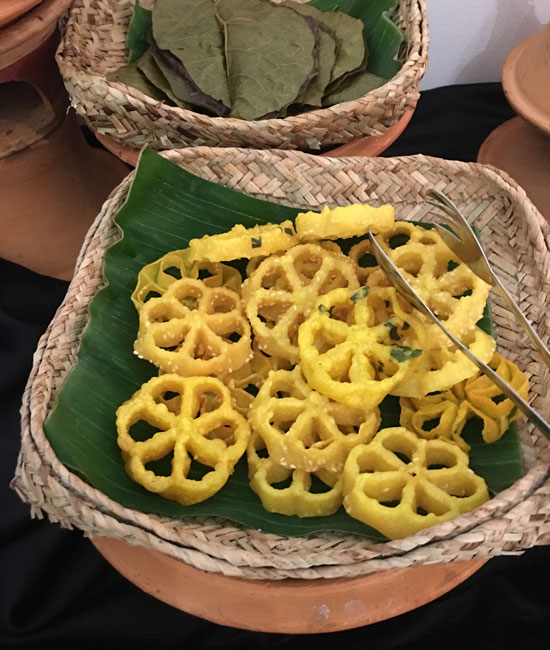 Kokis or rosette cookies are deep-fried snacks. Made of rice flour, coconut milk and egg, kokis are one of the must-haves during Avuruda, the Sinhala and Tamil New Year in Sri Lanka.
You can buy kokis as food souvenirs for friends and family.
10. Kiribath (coconut milk rice)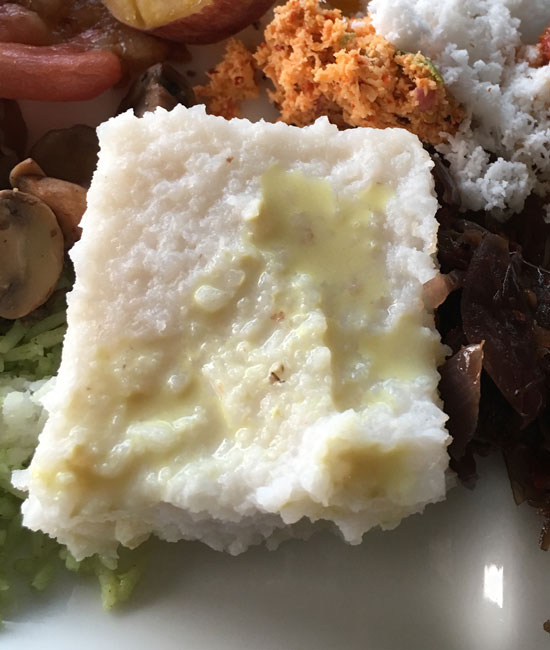 Kiribath has been a traditional part of Sri Lankan cookning for over 2,500 years. It's a religious ceremonial food, Avuruda (new year) must-have and breakfast food. In Kandy, I tried cylindrical-shaped kiribath. It's usually flattened, about an inch thick and cut into diamond shapes or squares.
The richness of the coconut milk rice goes well with lunu miris, seeni sambol or any curry.
May these foods inspire you to take the time to travel and discover Sri Lanka.
Note: I had all my meals at hotels and western-style restaurants. I did not eat street foods or at local restaurants while visiting Sri Lanka.